Bryan Wee, PhD receives University of Colorado Denver Graduate School Dean's Masters Mentoring Award
Kristine M. Sikora, PhD | Graduate School
Jun 6, 2022
Denver, Colorado – Bryan Wee, PhD, Associate Professor in the Department of Geography and Environmental Sciences at the University of Colorado Denver (CU Denver), is the recipient of the 2022 Dean's Masters Mentoring Award.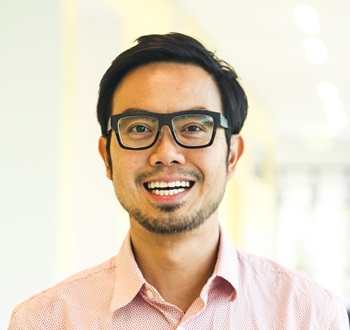 This award goes to faculty who demonstrate a commitment to providing students with a one-on-one, high-quality training experience; maintain high standards of scholarship; and possess personal attributes that make the faculty member an effective role model for other mentors. Faculty are nominated by the master's students whom they mentored for at least one semester and with a significant amount of one-on-one interaction.
Dr. Wee was nominated by graduate students Meghan Chantler, Jade Cunningham, James Goudreau, Katherine Joyce, and Isaac Singer who wrote "Dr. Bryan Wee is a steadfast and supportive advisor propelling the next generation of critical thinking leaders from CU Denver."
Each providing their own summaries of the impact of Dr. Wee's mentorship, one student remarks "As my advisor, Bryan has helped me make difficult decisions regarding my academic and career journey, while always keeping my best interest in mind and encouraging me to push the limits of my goals. He has provided me with so much help and support during my semesters here, especially through the pandemic when classes were remote for two semesters. I found that a few of professors let students and standards slip during remote classes."
Additional praise is offered regarding Dr. Wee's teaching style. "As a professor, his classroom settings promote open dialogue and discussion, nobody is ever singled out and everyone's opinions matter. I have frequently felt obligated to speak up or have felt nervous about sounding incompetent in other classes. However, the calmness and ease in the way Dr. Wee conducts his classes are astounding, and I have never felt anything other than complete comfort" another student writes. "The classroom environments developed by Dr. Wee promote supportive learning and critical thinking skills. A comforting and open atmosphere more easily creates dialogue amongst the group. The best and most fascinating interactions I have experienced at UC Denver have been in Dr. Wee's classes and I believe it is solely due to the classroom environment he creates with his openness and expertise as a professor."
When asked what this award means to him, Dr. Wee stated "Mentoring is not solely about guiding students through school, it is also helping them navigate the complexities of life. An example is the graduate student panel that I helped organize at the height of the pandemic. It provided a safe space to share our experiences teaching and learning on zoom, and we integrated these challenges with the daily realities of life beyond the classroom." He continues "To mentor is to recognize and validate students as whole persons, as more than the sum of their course credits. A colleague once asked me what it is like to be an immigrant in Denver, to be in a place so far from home. Getting nominated, and winning, a mentoring award signifies that it is our shared humanity, not only nationality or distance, that connects and sustains all of us. I am deeply humbled and honored to be an award recipient, and ever grateful to the amazing students, staff and faculty at CU Denver."
Dr. Wee is the 2022 award recipient along. Previous award recipients are listed below.

2021: Adam Lippert, PhD, Department of Sociology
2020: Michael Hinke, PhD, Department of Urban and Regional Planning; and Lois Brink, PhD, Department of Landscape Architecture
2019: Adam Lippert, PhD, Department of Sociology; and Jan Mandel, PhD, Department of Mathematical and Statistical Sciences
2018: Hai Lin, PhD, Department of Chemistry; and Sarah Horton, PhD, Department of Anthropology
2017: Rodney Herring, PhD, Department of English; and Omar Swartz, JD, PhD, Director, Master of Social Science Program

About The Graduate School
The Graduate School administers and serves master's programs, doctoral programs, certificates, and non-degree courses throughout all thirteen schools and colleges across both the Denver and the Anschutz Medical Campuses. The Graduate School recognizes the importance of mentoring as essential to all levels of graduate training.