Clayton Buck receives University of Colorado Denver Graduate School Distinguished Service Award
Graduate School
May 29, 2020
Denver, Colorado – Clayton Buck, graduate student in Medical Sociology within the Department of Sociology at the University of Colorado Denver, received the prestigious honor of the Graduate School Distinguished Service Award.
This award recognizes the graduate student who demonstrated outstanding service to making a difference in the university and broader community. The award recipient is a student who has volunteered their time to enrich the diversity and inclusiveness at the University of Colorado Denver and demonstrated peer support or provided service to their fellow students.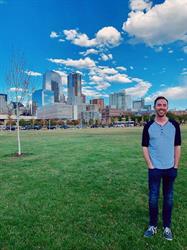 Clayton has served as the department's statistics tutor for both undergraduate and graduate students, assistant taught for CU Denver's undergraduate and graduate statistics course, organized numerous department functions including colloquia, contributed to tenure-track faculty search, planned cohort activities, and provided countless hours of methods tutoring to his peers. Clayton's nominators feel his service provides immeasurable value for his fellow students and the Department of Sociology.
Buck was nominated by Adam M. Lippert, PhD, Assistant Professor and Graduate Program Director in the Department of Sociology, Kari Alexander, PhD, Senior Instructor in the Department of Sociology, and Teresa Cooney, PhD, Professor and Department Chair in the Department of Sociology.
"Clayton has been a wonderful member of our department's community," wrote his nominators, "He uplifts his peers, provides invaluable instructional services, and has helped our marketing and recruiting efforts in many ways."
ABOUT the Graduate School. The Graduate School administers and serves master's programs, Doctoral programs, Certificates, and non-degree courses throughout all thirteen schools and colleges across both the Denver and the Anschutz Medical Campuses. The Graduate School recognizes the importance of distinguished service demonstrated by our graduate students.