Courtney Donovan, PhD receives University of Colorado Denver Graduate School Dean's Doctoral Mentoring Award
Graduate School
May 29, 2020
Denver, Colorado – Courtney Donovan, PhD, Clinical Assistant Professor for the School of Education and Human Development (SEHD) at the University of Colorado Denver (CU Denver), recently received the prestigious Dean's Doctoral Mentoring Award.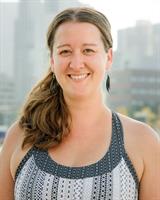 This award goes to faculty who demonstrate commitment to providing students with a one-on-one, high-quality training experience; maintain high standards of scholarship; and possess personal attributes that make the faculty member an effective role model for other mentors. Faculty are nominated by the doctoral students whom they mentored for at least one semester and with a significant amount of one-on-one interaction.

"I am so honored and excited to receive this award! I work hard to ensure my students are supported in their learning and needs inside and outside my courses," said Dr. Donovan. "I teach the "scary" subjects (research methods and stats!), so I am blown away to see all the student's supporting me for this. The signatures on the submission represented students across multiple Master's, PhD, and EdD programs, and even those outside the university. This award makes me even more thrilled to be faculty at CU Denver and confirms the work I am doing matters!"
Dr. Donovan was nominated by 49 doctoral and master's students. Her nominators wrote, "In addition to her exemplary teaching and research, Dr. Donovan demonstrates an extraordinary commitment to providing both doctoral and master's students in or out of SEHD with high-quality and personalized mentoring."
Dr. Donovan is the 2020 award recipient, along with Dr. Tanya Heikkila from the School of Public Affairs. Previous award recipients are listed below.
2018: Connie Fulmer, PhD, Professor, School of Education & Human Development
2018: Stephanie Santorico, PhD, Professor and Director of Statistical Programs, College of Liberal Arts and Sciences
2017: Patrick Krueger, PhD, Director of Graduate Studies, Associate Professor, College of Liberal Arts and Sciences
2017: Mary Guy, PhD, Professor, School of Public Affairs
ABOUT the Graduate School. The Graduate School administers and serves Master's programs, Doctoral programs, Certificates, and non-degree courses throughout all thirteen schools and colleges across both the Denver and the Anschutz Medical Campuses. The Graduate School recognizes the importance of mentoring as essential to all levels of graduate training.