Dani Slabaugh, MLA receives University of Colorado Denver Graduate School Diversity, Equity & Inclusion Award
Kristine M. Sikora, PhD | Graduate School
Jun 3, 2022
Denver, Colorado – Dani Slabaugh, MLA, current student in the Geography, Planning, and Design PhD program at the University of Colorado Denver (CU Denver), is the recipient of the 2022 Diversity, Equity & Inclusion Award.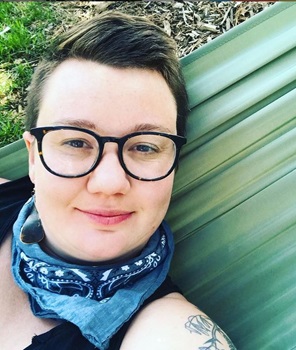 This award goes to a current graduate student or student organization who has made significant contributions to improving the climate of diversity, equity and inclusion (DEI) at CU Denver by addressing key issues with innovation and demonstrating superior leadership and commitment to the enhancement, development and sustainability of DEI excellence.
Slabaugh was nominated by faculty members Carrie Makarewicz, PhD and Jeremy Nemeth, PhD from the Department of Urban and Regional Planning at CU Denver.
In their nomination, they highlighted Slabaugh's numerous contributions to DEI efforts both at CU Denver and throughout the community. In addition to delving into coursework and research centered around DEI issues, Slabaugh has advocated for their peers and served as a champion for inclusion by securing dedicated community and children's spaces and appealing for more inclusive university policies.
In addition, Slabaugh regularly volunteers their own time to serve the community, applying their professional and educational architectural and design skills and experience. In one specific example of Slabaugh's community outreach efforts, Drs Makarewicz and Nemeth highlight "During our work with Dani on campus, we have also learned of the numerous ways she uses her landscape architecture experience to work with low income and BIPOC neighborhoods to design and build local gardens and green spaces. She also makes and distributes food to our unhoused neighbors and, using her knowledge of construction, spent many hours volunteering to build the 'safe outdoor space' for unhoused residents on the Denver Health campus in West Denver."
"Dani is a superstar and we know no one who is more deserving of this recognition." the nominators emphasize. "Dani walks the walk, and is fully dedicated to DEI in her teaching, research, and service. We will continue to learn from her and incorporate these lessons into administrative policies, teaching, and research."
When asked what this award means to them, Slabaugh states "I'm grateful to my mentors and supervisors who nominated me for this award. More than the financial award (which is very much appreciated and sorely needed!) I feel like I'm often the person in the room who is always asking skeptical - and occasionally frustrating - questions about power and inequality." They continue "I'm so grateful that the folks I work with at CU see and appreciate that aspect of who I am. That's a rare and wonderful thing! It's a hopeful thing to be able to extend an invitation to more critical conversations about power – our nation's living history of white supremacy and colonization, the role the University and higher education in upholding those structures - and be met by folks leaning into that invitation rather than stiffening, getting scared, and shutting down."
They add "I'm hopeful that as CU Denver begins to proudly claim it's title as a 'Diversity Serving Institution', Campus and University leadership can also lean into these somewhat challenging conversations and listen to calls for real historically rooted reflection and accountability regarding power alongside celebrations of diversity."

Established in 2021, Slabaugh is 2nd student to receive the Diversity, Equity & Inclusion Award. The inaugural award winner was Cynthia Rice, Political Science MA Program.
About The Graduate School
The Graduate School administers and serves master's programs, doctoral programs, certificates, and non-degree courses throughout all thirteen schools and colleges across both the Denver and the Anschutz Medical Campuses. The Graduate School recognizes the importance of mentoring as essential to all levels of graduate training.