Press Release: Rani Powers, PhD, receives University of Colorado Anschutz Medical Campus Graduate School Outstanding Dissertation Award
Graduate School
Jun 15, 2020
Aurora, Colorado – Dr. Rani Powers, recent graduate of the Computational Bioscience PhD program at the University of Colorado Anschutz Medical Campus, received the prestigious Outstanding Dissertation Award.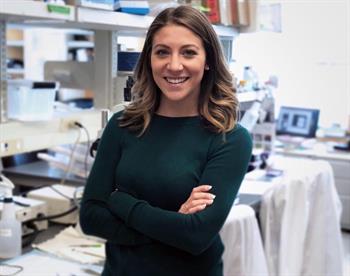 The Graduate School honors the recent graduate who produced the best dissertation and dissertation defense out of all graduates from the preceding three semesters. Nominations were submitted by faculty mentors and/or any members of a student's thesis committee and highlighted elements of the dissertation and defense that were truly outstanding. Only one doctoral student on the Anschutz Medical Campus received this honor. A separate dissertation award is presented at CU Denver.
Dr. Powers said, "I'm honored and humbled that my research was selected for this award from such an outstanding graduating class. I'm truly grateful for the many mentors and faculty at the University of Colorado Anschutz Medical Campus who supported me throughout these pursuits."
Dr. Powers was nominated by her advisor James C. Costello, PhD, Assistant Professor in the Department of Pharmacology, and Director of the Bioinformatics, Biostatistics and Bioinformatics Shared Resource.
Dr. Power's dissertation, entitled "Gene set enrichment analysis to understand context-specific gene expression" demonstrated a computational approach to analyze large omics data sets, specifically those containing gene expression data, by viewing them under different experimental "lenses" to reveal distinct expression patterns across experiments.
Dr. Costello emphasizes in his nomination, "This approach allows a researcher to find biological pathways that are not only differentially regulated in the single experiment but can show that the pathway is commonly affected in an array of different experiments. Similarly, this approach can help identify pathways that are uniquely differentially expressed in the single experiment compared to many other experiments."
During her graduate career, Dr. Powers' work included the characterization of the metabolomes of individuals with and without Down syndrome. This work resulted in a first authored Nature Communications manuscript and is part of the larger initiative by the Linda Crnic Institute, serving as the basis for several funded grants.
Dr. Costello also notes Dr. Power's strengths, writing "Rani was hard working, well respected by her peers, scientifically curious, and fearless when tackling new problems. I am so proud of what Rani was able to accomplish in her short time in my lab and I fully expect she will continue to make the CU Anschutz Medical Campus proud into her future career."
Dr. Powers has numerous authored manuscripts, including publications in Nature Communications and Cell, and presented at many national conferences. In 2018, she was awarded one of the most prestigious awards in computational biology, the Ian Lawson Von Toch Memorial Award for Outstanding Student Paper, at the International Conference on Intelligent Systems for Molecular Biology (ISMB). Dr. Powers was also awarded an independent, competitive training fellowship, the Blumenthal Fund Pre-doctoral Fellowship.