Colorado Council of Graduate Schools hosts first annual 3-Minute Talk Competition
Share Your Research in Just 3 Minutes
Graduate School
Apr 4, 2019
In 2008, the University of Queensland, Australia, started the first 3-Minute Thesis Competition challenging PhD students to present their research in just three minutes with one standing slide. Meanwhile this enterprise has spread all over the world, and many universities now host such competitions. Now many institutions also invite Master's students to participate and have therefore adopted other names, such as 3-Minute Project, GradSlam, 3-Minute Talks, etc.
In 2018, the University of Colorado Denver|Anschutz Medical Campus started its first 3-Minute Talk Competition on the Denver Campus, to be followed by an Anschutz Competition and an Intercampus Competition in Spring 2019. The intercampus winner represented the University at the regional competition of the Western Association of Graduate Schools (WAGS) and at the Colorado State-Wide competition that is hosted by the Colorado Council of Graduate Schools (Colorado CGS).
First Statewide Three Minute Talk Competition

On April 4, 2019, the Colorado Council of Graduate Schools hosted its 1st Statewide 3-Minute Talk Competition with six presenters from six Colorado Universities. Four judges from local government organizations kindly agreed to serve as judges for this occasion.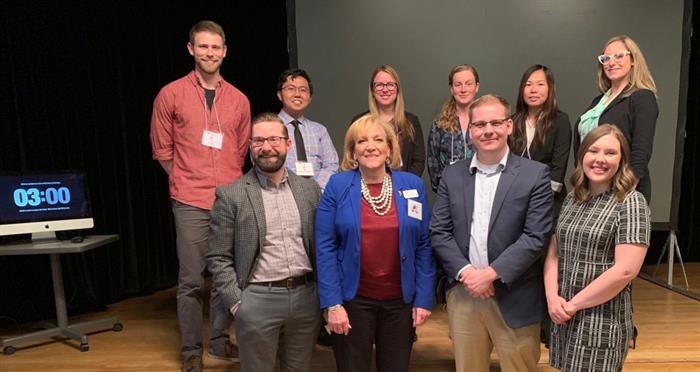 We congratulate the winners: Afnan Shazwan Nasaruddin (1st) from Colorado State University, and Luke Bury (2nd) from the University of Colorado Boulder!
Presenters (rear row, left to right)
Luke Bury, CU Boulder
Afnan Shazwan Nasaruddin, CSU
Halley Keevil, School of Mines
Keriann Conroy, Western Colorado University
Selina Vong, CU Denver
Gail Oversteg, Metro State University
Judges (front row, left to right)
Thomas Farell, Office of Senator Bennet
Dr. Angie Paccione, Executive Director, Colorado Department of Higher Education
Steven Emmen, Office of Senator Gardner
Arden Parker, Office of Congresswoman DeGette
CU Intercampus Competition Winner
We congratulate Selina Vong from CU Denver for taking 1st place in the CU Denver | Anschutz Medical Campus competition!