Alan Kennedy, PhD receives University of Colorado Denver Graduate School Outstanding Dissertation Award
Kristine M. Sikora, PhD | Graduate School
Jun 3, 2022
Denver, Colorado – Alan Kennedy, PhD, 2021 graduate of the Public Affairs PhD program at the University of Colorado Denver (CU Denver), is the recipient of the prestigious 2022 Outstanding Dissertation Award.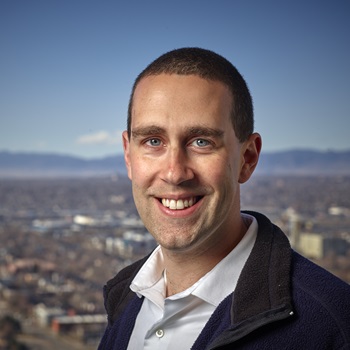 The Graduate School honors the recent graduate who produced the best dissertation and dissertation defense out of all graduates from the preceding three semesters. Nominations were submitted by faculty mentors and/or any members of a student's thesis committee and highlighted elements of the dissertation and defense that were truly outstanding.

Dr. Kennedy's dissertation, entitled "Guns Without Borders: State Gun Laws and Jurisdictional Externalities", investigates the degree to which federalism and the right of states to independently develop their state's gun laws causes more problems than it solves. By comparing what happens in states with gun control laws when they are adjacent to states that have no gun laws, Dr. Kennedy's research supports that a state with gun restrictions is simply establishing a market for gun sales in neighboring states.
Dr. Kennedy was nominated by Drs Mary E. Guy, Deserai Crow, and Geoffrey Propheter from the School of Public Affairs at CU Denver.
In their nomination, they highlighted that "[Dr. Kennedy's] dissertation leads to a fruitful research agenda around the subject of federalism as it relates to social problems, statecraft, and governing." They add "The research is substantive, theoretically meaningful, and breaks new ground in our understanding of the assumptions and legal interpretations that bind this republic together – or not. The work is interesting, timely, relevant, and rigorous."
"An incredible honor!" Dr. Kennedy exclaimed when asked what this award means to him. "I am delighted to receive the outstanding dissertation award. This award is especially meaningful because it pays tribute to the victims of gun violence and highlights the urgent need for action. I am grateful for the encouragement of my loving family and friends, the guidance and support from Distinguished Professor Mary Guy and my committee, and the CU Denver School of Public Affairs community.
Dr. Kennedy is the 2022 Graduate School Outstanding Dissertation Award recipient and also the recipient of the School of Public Affairs Best Dissertation Award. Previous Graduate School Outstanding Dissertation Award recipients are listed below.
2021: Amy Smith, PhD, Education and Human Development PhD Program
2020: Charles Viss, PhD, Applied Mathematics PhD Program
2019: Farzaneh Hajabdollahi-Ouderji, PhD, Engineering and Applied Science PhD Program
2018: Matthew Westacott, PhD, Bioengineering PhD Program; and Baris Ozbay, PhD, Bioengineering PhD Program
2017: David P. Carter, PhD, Public Affairs PhD Program
About The Graduate School
The Graduate School administers and serves master's programs, doctoral programs, certificates, and non-degree courses throughout all thirteen schools and colleges across both the Denver and the Anschutz Medical Campuses. The Graduate School recognizes the importance of mentoring as essential to all levels of graduate training.