Betzaida Maldonado, MS receives University of Colorado Anschutz Medical Campus Graduate School Distinguished Service Award
Kristine M. Sikora, PhD | Graduate School
May 22, 2023
Aurora, Colorado – Betzaida Maldonado, MS, current student in the Human Medical Genetics and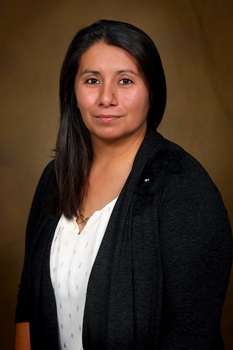 Genomics PhD Program at the University of Colorado Anschutz Medical Campus (CU Anschutz), is the recipient of the 2023 Distinguished Service Award.

This award recognizes the graduate student who demonstrated outstanding service to making a difference in the university and broader community. The award recipient is a student who has volunteered their time to enrich the diversity and inclusiveness at CU Anschutz and demonstrated peer support or provided service to their fellow students.

Maldonado was nominated by Christopher Gignoux, PhD, Associate Professor in the Department of Biomedical Informatics at CU Anschutz. Dr. Gignoux's letter, which was cosigned by 7 other faculty members, highlighted Maldonado's unique perspective on what it means to be a scientist. They wrote "To Ms. Maldonado, science is both the act of discovery and the act of training and building capacity for both her generation and the next. To this end she is tireless in her goals of performing her science and being a good labmate and collaborator while her service efforts span far and wide, both in time and across the country"

Nominators also remarked how Maldonado's personal background has enabled her to connect more deeply with young budding scientists, especially those from underrepresented or marginalized backgrounds. They shared "Overall, Ms. Maldonado has interacted and shared her story of getting to where she is with hundreds of students over the past several years. She has given about a dozen presentations since starting as a graduate student where she shares her whole experience as both a first generation immigrant and a member of the LGBTQ+ community and how that has shaped the scientist and capacity builder she is today."

Maldonado's nominators also pass along praise provided by the Associate Director of the CSU Upward Bound Program for which Maldonado is an instructor. "I'm not in the practice of using absolutes much for anything these days" they remarked, "Betzaida Maldonado is absolutely the best teacher I have ever observed in my 16 years with Upward Bound."

Her nominators concluded, "Her commitment to each student, to understand their experience, needs, and talents, is nothing short of exceptional and reflects her deep interest in training the next generation."
When asked what this award means to her, Maldonado reflected "As a first-generation student from another country, the PhD journey can be intimidating. However, I have found my commitment and passion in science through service, mentoring, and volunteering. While it is difficult to balance both my passion for science and service, this award has fueled my motivation and inspiration. It is a reminder that even the smallest light can shine in darkness, that my efforts, as small as they might feel, can make a difference. It honestly feels strange to be recognized for something that is at the core of my values, as I've always been driven by my desire to increase equity and create opportunities for others." She added "I am honored to receive this award which highlights the importance of leading with kindness, being involved, and being the change we wish to see in the world."


Maldonado is the 2023 award winner. Previous award winners are listed below.
2022: Rachel Culp-Hill, MS, Structural Biology and Biochemistry PhD Program
2021: Zoe O'Donoghue, PhD, Microbiology PhD Program
2018: Courtney Wilson, PhD, Neuroscience PhD Program
2017: Anthony Mangan, PhD, Molecular Biology PhD Program
About The Graduate School | The Graduate School at the University of Colorado Anschutz Medical Campus (CU Anschutz) oversees, facilitates, and enhances graduate education and postdoctoral training, while encouraging excellence in research, creative and scholarly work. We offer master's degrees, doctoral degrees, graduate certificates, and non-degree options in a wide variety of programs.