Meagan Chriswell receives University of Colorado Anschutz Medical Campus Graduate School Diversity, Equity & Inclusion Award
Kristine M. Sikora, PhD | Graduate School
Jun 3, 2022
Aurora, Colorado – Meagan Chriswell, current student in the Medical Scientist Training (MSTP) MD/PhD Program at the University of Colorado Anschutz Medical Campus (CU Anschutz), is the recipient of the 2022 Diversity, Equity & Inclusion Award.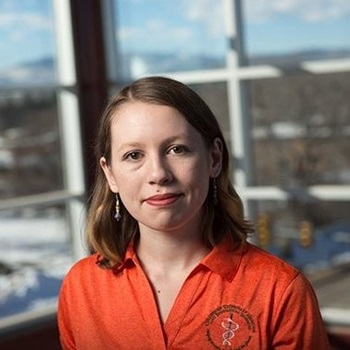 This award goes to a current graduate student or student organization who has made significant contributions to improving the climate of diversity, equity and inclusion (DEI) at CU Anschutz by addressing key issues with innovation and demonstrating superior leadership and commitment to the enhancement, development and sustainability of DEI excellence.
Chriswell was nominated by Adam Lefferts, current student in the Immunology PhD program at CU Anschutz who writes "Meagan has consistently found time not just to involve herself in activities that advance the causes of Diversity, Equity, and Inclusion (DEI) at Anschutz, but to additionally rise to places of leadership, and to spearhead efforts to expand ongoing programs and launch new initiatives."
In his nomination, Lefferts highlighted Chriswell's numerous contributions to DEI efforts at CU Anschutz. In addition to serving as the MSTP representative on the CU Anschutz Diversity, Equity, and Inclusion Faculty Taskforce, Chriswell was also the Appointed Vice Chair of the American Physician Scientist Association's Justice, Equity, Diversity, and Inclusion committee; she was elected to the Medical Student Section of the American Medical Association for the Committee on American Indian Affairs; and was invited to speak for the 2022 Stanford University Medical Minority Alliance.
In one notable example of Chriswell's major contributions to CU Anschutz DEI efforts, Lefferts highlights "In 2020, Meagan cofounded the Summer Research Training Program, a Colorado based initiative aimed at recruiting historically underrepresented students into professional and/or graduate school at the University of Colorado through mentorship and research lab placement." He adds "This program has already resulted in the successful placement of multiple participants in medical schools in Colorado and nationally."
Lefferts concludes "Meagan's accomplishments are varied, and include significant innovation as demonstrated by her novel initiatives, and impact as seen in the direct impacts on the lives of student touched by her work, and nationally as she spearheads systemic change."
When asked what this award means to her, Chriswell states "I am incredibly honored to receive this year's Diversity, Equity, and Inclusion award. As an indigenous woman, this year has been filled with news both hopeful and heartbreaking highlighting my community's resilience amidst hardship." She continues "My goal during my time in graduate school was to help to foster a more inclusive community for other Native students, as well as all students who come from backgrounds underrepresented in science and medicine."
Chriswell adds "Receiving this year's Diversity, Equity, and Inclusion award is very meaningful to me as it demonstrates that these efforts have been recognized. I am honored to have had the opportunity to create change, and hope to move the needle in the future both in Colorado and at a national level to create Equity and Inclusion for all students. ᏩᏙ (Thank you) from the bottom of my heart."
Established in 2021, Chriswell is the 2nd student to receive the Diversity, Equity & Inclusion Award. The inaugural award winner was Syd O. Staggs, Master in Public Health (MPH) Program.
About The Graduate School
The Graduate School administers and serves master's programs, doctoral programs, certificates, and non-degree courses throughout all thirteen schools and colleges across both the Denver and the Anschutz Medical Campuses. The Graduate School recognizes the importance of mentoring as essential to all levels of graduate training.