Rebecca Schweppe, PhD receives University of Colorado Anschutz Medical Campus Graduate School Dean's Doctoral Mentoring Award
Graduate School
Jun 15, 2020
Aurora, Colorado – Dr. Rebecca Schweppe, Associate Professor of Medicine and Pathology in the School of Medicine at the University of Colorado Anschutz Medical Campus (CU Anschutz), received the prestigious Dean's Doctoral Mentoring Award.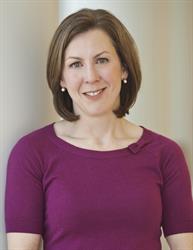 This award goes to faculty who demonstrate commitment to providing students with a one-on-one, high-quality training experience; maintain high standards of scholarship; and possess personal attributes that make the faculty member an effective role model for other mentors. Faculty are nominated by the doctoral students whom which they mentored for at least one semester and with a significant amount of one-on-one interaction.
"I cannot express how honored I am to receive this award," said Dr. Schweppe, "Training the next generation of scientists is my passion and is one of the most important things I do. I am so grateful for this award and for having amazing trainees who are focused and driven, and importantly have fun and are a great team! I learn something new from them every day."
Dr. Schweppe was nominated by graduate students Veronica Espinoza, Hannah Hicks, Meghan Kellett, Kelsey Nassar, and Madison Rose, and former graduate students Thomas Beadnell, PhD, and Brittelle Kessler, PhD.
Fourth-year doctoral candidate Madison Rose wrote, "I loved the way that [Dr. Schweppe] fostered a collaborative atmosphere in her lab as well as encouraged us to be independent scientists by letting us drive our own projects while offering insight and guidance as needed."
"I have benefited significantly, both professionally and personally, from Dr. Schweppe's mentoring", said Dr. Brittelle Kessler, "She is, in my opinion, an asset to the students of the Graduate School and the entire University of Colorado community."
Dr. Schweppe's lab works to develop more effective therapies for thyroid cancer by working to understand the regulation and function of deregulated kinase pathways. The goal of these studies is to advance to clinical trials for thyroid cancer patients who did not respond to standard treatment. Her lab investigates causes for thyroid cancer, how a tumor grows and spreads, and how to treat this disease. There is currently no cure for thyroid cancer.
Dr. Schweppe has previously received the outstanding junior faculty "Rising Stars" Award from the Department of Medicine at CU Anschutz, the Faculty Sponsor Award from the Graduate School, and the Environmental Health & Safety Merit Award from CU Anschutz. She also served as a Basic Science Director for the American Thyroid Association.
Dr. Schweppe is the 2020 award recipient, along with Dr. Vanessa Phelan from the Department of Pharmaceutical Sciences. Previous award recipients are listed below.
2019: Sean Colgan, PhD, Director of the Mucosal Inflammation Program, Director of the GI and Liver Innate Immune Program, Interim Chief and Vice Chair of Research, Division of Gastroenterology and Hepatology, and Professor of Medicine Immunology and Microbiology at the University of Colorado School of Medicine
2018: Cory Christiansen, PhD, Professor, Physical Medicine & Rehabilitation-Physical Therapy Program
2018: Jennifer Kiser, PharmD, PhD, Associate Professor, Department of Pharmaceutical Sciences, Associate Director, Center for Translational Pharmacokinetics and Pharmacogenomics
2017: Matthew Kennedy, PhD, Assistant Professor, Department of Pharmacology
2017: Rytis Prekeris, PhD, Professor, Department of Cell and Developmental Biology
2016: Jared Brown, PhD, Associate Professor of Toxicology, Department of Pharmaceutical Sciences at the Skaggs School of Pharmacy and Pharmaceutical Sciences
2016: Gidon Felsen, PhD, Assistant Professor, Department of Physiology and Biophysics, Associate Faculty in the Center for Bioethics and Humanities
2016: Jennifer Stevens-Lapsley, PT, PhD, Professor, Physical Therapy Program
2015: Ulli Bayer, PhD, Associate Professor, Molecular Biology Program
2015: Laurel Lenz, PhD, Professor, Immunology and Microbiology Program
2015: Jennifer Richer, PhD, Professor and Co-director of the Cancer Center Pathology Core
2014: Dana Dabelea, MD, PhD, Professor, Director of the LEAD Center and Conrad M. Riley Endowed Professor
2014: Elan Eisenmesser, PhD, Associate Professor, Biochemistry and Molecular Genetics
2014: Ross Kedl, PhD, Professor, Immunology and Microbiology Program
2014: Nancy Zahniser, PhD, Professor, Department of Pharmacology
2013: Deb Glueck, PhD, MS, Professor, Pediatrics-Endocrinology
2013: Gary Grunwald, PhD, Professor, Colorado School of Public Health, Department of Biostatistics and Informatics,
2013: Jim McManaman, PhD
ABOUT the Graduate School. The Graduate School administers and serves Master's programs, Doctoral programs, Certificates, and non-degree courses throughout all thirteen schools and colleges across both the Denver and the Anschutz Medical Campuses. The Graduate School recognizes the importance of mentoring as essential to all levels of graduate training.