Shelby Smith receives University of Colorado Anschutz Medical Campus Graduate School Distinguished Service Award
Kristine M. Sikora, PhD | Graduate School
Jun 3, 2022
Aurora, Colorado – Shelby Smith, MS, recent graduate of the Biostatistics master's program in the Colorado School of Public Health at the University of Colorado Anschutz Medical Campus (CU Anschutz) is the recipient of the 2022 Graduate School Distinguished Service Award.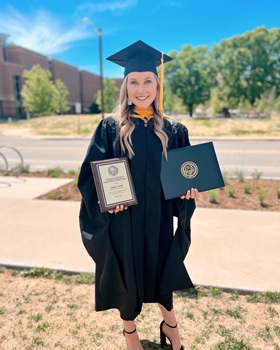 This award recognizes the graduate student who demonstrated outstanding service to making a difference in the university and broader community. The award recipient is a student who has volunteered their time to enrich the diversity and inclusiveness at CU Anschutz and demonstrated peer support or provided service to their fellow students.
Smith was nominated by Brandi Wagner, PhD, faculty in the Department of Biostatistics and Informatics at CU Anschutz, who writes "Shelby is a model student and an involved citizen, exemplifying involvement in the community and leadership during the two short years she has been in the MS program." She adds "It is also worth noting that her contributions were made all while participating in the program virtually her entire first year due to COVID. She made significant efforts in an attempt to make her cohort feel connected and part of a community despite not being able to meet in person."
In their nomination, Dr. Wagner highlighted Smith's numerous service roles at CU Anschutz. In addition to volunteering as a TA and a student representative for prospective student visit days and orientation, Smith is also the Vice President and Social Committee Chair for the Biostatistics Student Association (BSA), a student chapter of the American Statistical Association.
In highlighting Smith's service initiatives as an officer of the BSA, Dr. Wagner notes "Shelby organizes all of the weekly BSA happy hours and other social events around exam times to help students decompress and create a greater sense of community among students. Shelby has also been involved with BSA donation drives that have benefited the Food Bank of the Rockies and contributed personal letters to nursing home residents during COVID."
When asked what this award means to her, Smith states "Throughout my time at CU Anschutz, I have had many opportunities to be involved and connect with my peers. From Teaching Assistantships to various roles with the Biostatistics Student Association and serving as the Master's Student Representative for the Department of Biostatistics, I have been so fortunate to meet and develop relationships with so many students across several disciplines." She adds "Despite a remote first year, I am grateful to have been entrusted with so many leadership roles and the opportunity to be involved and make a difference in the graduate school community."
Smith is the 2022 award winner along with Rachel Culp-Hill, MS, from the Structural Biology and Biochemistry PhD Program. Previous award winners are listed below.
2021: Zoe O'Donoghue, PhD, Microbiology PhD Program
2018: Courtney Wilson, PhD, Neuroscience PhD Program
2017: Anthony Mangan, PhD, Molecular Biology PhD Program

About The Graduate School
The Graduate School administers and serves master's programs, doctoral programs, certificates, and non-degree courses throughout all thirteen schools and colleges across both the Denver and the Anschutz Medical Campuses. The Graduate School recognizes the importance of mentoring as essential to all levels of graduate training.